This site designed by me.


Everybody's Favorite Hometown Band
since 1988
Penn Dixie Now Marches/Strolls upon Request!
​ FLOAT/STAGE RENTAL INFO on CONTACT PAGE!
Spring/Summer 2019 is now filled, now Booking Christmas 2019 and 2020:
We Also do Authentic Irish for St. Pats Parades, Authentic German for Oktoberfests, Christmas etc, and, we do Themes for ANY occasion
Click

ABOUT

at the top of this page for

BRAND

NEW

Pictures from our Photo Album AND Video Links ** "LIKE us on Facebook **
What They are Saying about PENN DIXIE:
" I used Barney Wilkins and the Penn-Dixie Band in both of our parades at the Shenandoah Apple Blossom Festival in 2006. They were very professional and they were real crowd pleasers. I had them back for our special 80th Anniversary Celebration in 2007, and again every year since." John Rosenberger, Executive Director, Shenandoah Apple Blossom Festival, Winchester VA

"The band did an outstanding job... Lots of variety... A great clean sound." - Bill Flynn, Radio D.J., 94.3 FM, Cool 100.5 FM, Binghamton NY, Co-Host of Pennsylvania Polka, WVIA T.V.

"Penn Dixie is always a favorite at FUNFEST. As soon as they stroll into earshot, toes start tapping and people start dancing. They have been helping us to set the mood for our celebration for years!" - Judiann McGrogan, Executive Director Hazleton Fun Fest

"[2011] was the 15th year that Penn Dixie was part of the PA State Laurel Festival Parade... their music was outstanding ... we're already looking forward to next year." - Donna M. Phillips, Special Events Coordinator, Wellsboro Chamber of Commerce

"A good choice for any day ... Personable, versatile, reasonably priced... Wonderful interaction with the Fair goers..." - Annie Clark, Director, Past Secretary, Tioga County (PA) Fair

"... Interactive and friendly... the band brought a jovial flair to our event... [we] were impressed with the groups ability to switch form polkas to big band and audience requests seamlessly!" - Janina Laurin, Event Coordinator, American Belgian Tervuren Club National Specialty Show

"... When we needed entertainment, Barney Wilkins fulfilled our needs... Penn Dixie, Apache Junction, and the Barney Wilkins Big Band made our 150th a success... the audiences were stompin' clappin' and having a grand old time..." - Ed Skorupa, Fell Twp. 150th Anniversary

"I'd give my last 10 dollars to buy a ticket to see the Barney Wilkins Big Band"- Joe Corey, Special Events Director for Wesley Village

"... Bring back that Penn Dixie Band won't you please... I Love those guys..." - Debbie Dunleavey, Anchor, News 22 (CBS affiliate, Scranton PA) from 1992 Columbus Day Parade Broadcast

"The high energy of the Penn Dixie Band kept the crowds coming back for more... every show is filled with excitement" - James K. Adams, 1999/2000 PA State Association of County Fairs President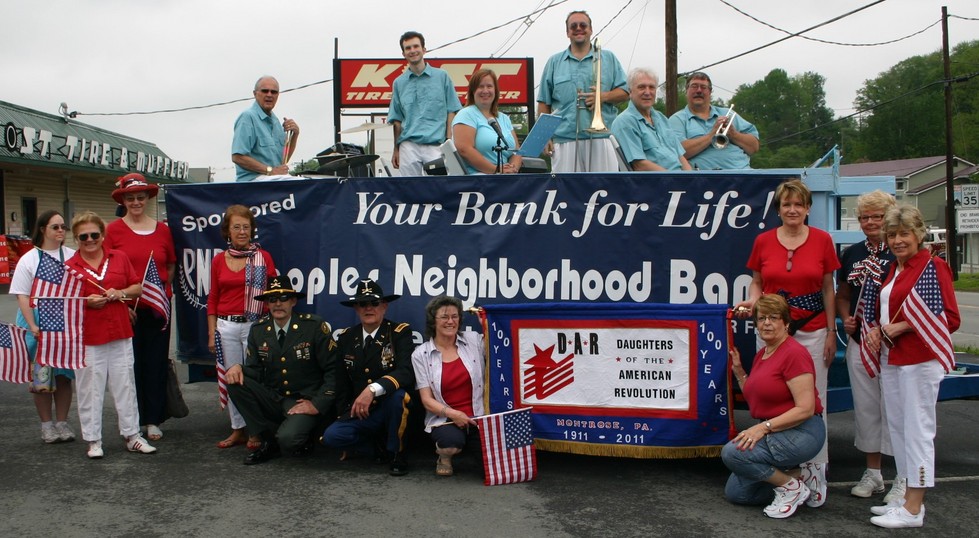 Since 1988, the PENN DIXIE BAND is ready to perform for any event, indoor or outdoor. On stage or in parade, the high energy of PENN DIXIE is guaranteed to please all ages! The Dixieland style is closely related to so many other styles, including folk, country, swing and others. That's why it's so well liked by many diverse groups! PENN DIXIE will travel anywhere, and offer affordable, high quality presentations. "P.D." will play Dixieland, Swing, Patriotic, and more! Dances, weddings, you name it, we can do it! 2019 Marks PENN DIXIE's 21st year, we performed over 100 engagements in 2018, 61 being parades. We would love to be a part of your event!

Invented in New Orleans over a hundred years ago, DIXIELAND Jazz became the truly American form of Music. As it traveled up the mighty Mississippi thru the Central U.S., it became a multi cultural mix of complex syncopation and harmonies, mixed with fun and nostalgic melodies. You will hear a true melting pot of European, African, Latin, and other cultures mixing their best to form something new and exciting. That's America! Today's pop music owes its roots to the original thinkers of Dixieland/New Orleans Jazz!
XXXXXXXXXXXXXXXXXXXXXXXXXXXXXXXXXXXXXXXXXXXXXXXXXXXXXXXXXXXXXXXXXXXXXXXXXXXXXXXXXXXXXXXXX
---------------------------------------------------------------------------------------------------------------------------------------------------------------------
OOOOOOOOOOOOOOOOOOOOOOOOOOOOOOOOOOOOOOOOOOOOOOOOOOOOOOOOOOOOOOOOOOOOOOOO